Spring season recap and news
With summer fast approaching, it seems appropriate to share some news and reflections on our spring season at CVRD. Our numbers are still too low to do much competitive skating as a group, but we have continued to rebuild our league by adding new members to our ranks and making progress on our collective skill level. Meanwhile, we have been practicing together with Vermont Men's Roller Derby at the Montpelier Rec Center.
Members
This spring we welcomed Moody to our league and congratulated her as she passed her first assessments. We have also been happily welcoming Katie at our practices a bit more often lately and she did a truly excellent job at her first scrimmage with a mixed-league group against the Twin State Derby B-team. Also skating in her first scrimmage that night was our friend Leggz Benedict, who has visited us a couple of times from our sister league, NEKRD. It is very worth noting that BurnYoulli's Evasion, Henny Dreadful and Cyanide have all passed the majority of skills in the first assessment and are expected to move up to level 2 shortly. We're so proud of everyone's progress! Big props to everyone who shows up consistently and puts the work in to improve their skills (ahem, looking at you, Dish + Hannah).
Bouts
As part of the greater Team Vermont, Rad Rover skated with GMRD's Grade A Fancy travel team in two bouts and a tournament this spring. Granite State won the first bout in Essex Junction against GMRD this season with a score of 231-170. Certainly a force to be reckoned with! At Coastal Chaos in Rockport, Maine, the Fancies lost two games and won one: GMRD v. Rockin' City with 77-240, GMRD v. Bay State Brawlers with 140-179, and GMRD v. Mass Attack with 151-137. See the videos for those games below, courtesy of NERDerby's YouTube channel.
And last but not least, the Fancies won a home bout in May against Fog City's Shipyard Sirens with a score of 239-116.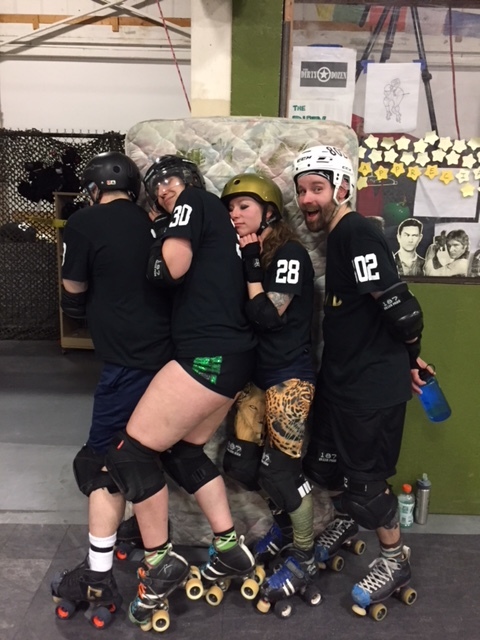 On April 14, Rad skated with our VMRD friends Stylizer, Backbreaker Bane and Pussy Venom in Pioneer Valley's United Front v. The World bout down in Western Massachusetts where they took a pretty adorable photo with one of the protective wall mattresses.
Rad, Pussy and Bane will be joining "The World" again for a rematch on June 16 and will have the opportunity to skate alongside our buds Klitorisk and Cryptic Kablam from GMRD!
League news
We are currently revving up for our recruitment event on June 3rd and are very excited to welcome a new batch of rookies! At our last league meeting, we also set the goal to host a bout in Central Vermont in the summer of 2019. We can hardly wait, but we're focused on building up the team right now! Thanks for reading and please spread the good recruitment word to all your friends. Much love.